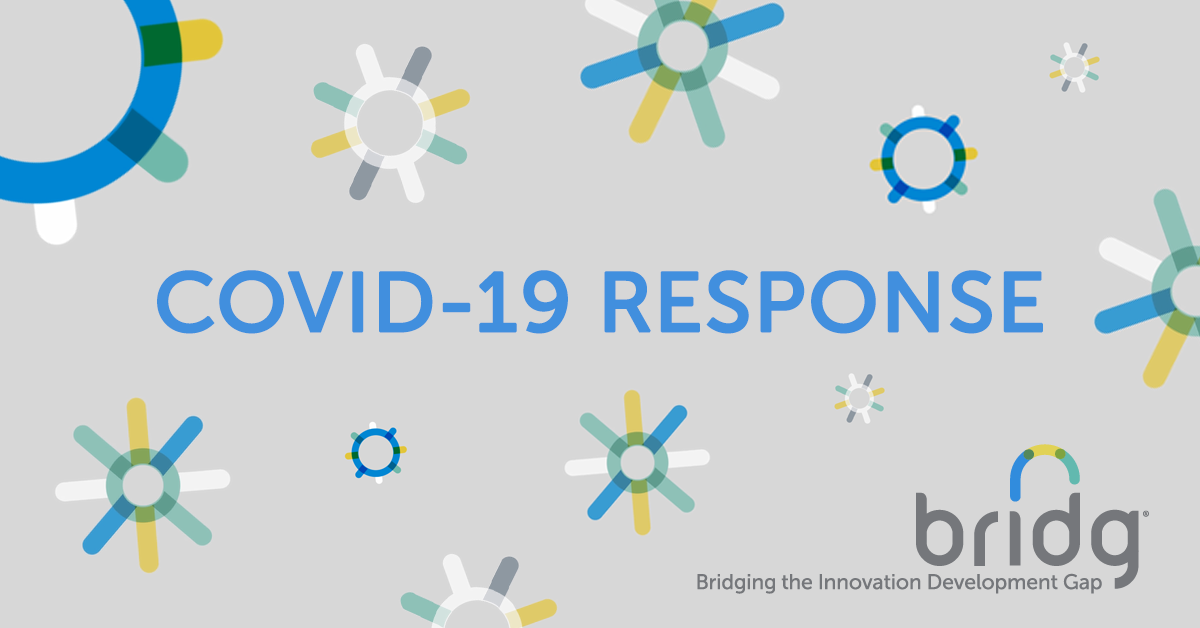 The events of the last month have sparked unprecedented change in all aspects of life, altering the ways we collaborate, innovate, and progress.
Throughout these uncertain times, BRIDG has a unique responsibility to sustain our operations as part of the critical infrastructure industry and workforce. Given these key services BRIDG provides to the defense industrial base, our facility is not impacted by the "Stay at Home" orders recently issued by local and state governments. Our cleanrooms are fully operational, and we are also offering cleanroom space and seeking partnerships to help alleviate shortages in life-saving medical supplies.
We have taken significant precautions as we navigate this crisis, including increased wipe downs of common areas, social distancing within the cleanroom, and implementing a remote work environment for all employees who are eligible.
Our technical team continues to work onsite under increasingly rigorous protocols and procedures, following guidance from the CDC and other public health organizations. We are incredibly grateful for our team members who continue to work hard each day – both onsite and from home – and we are committed to keeping all of them safe.
Maintaining Safe Operations
Protecting the health and safety of our employees and partners is our highest priority. As our team continues to make progress toward our strategic goals, we have taken additional measures to help prevent the spread of germs onsite.
All employees and contractors have their temperature taken with a non-contact thermometer prior to proceeding beyond the lobby each day.
Enhanced social distancing practices have been implemented within our cleanrooms and throughout our office spaces. In addition to maintaining 6-foot separation, we have limited access to common areas and adjusted work processes to minimize face-to-face collaboration.
Additional cleaning and disinfecting protocols have been put in place.
Visitor Policy
Though we often welcome opportunities to showcase our facility to our partners, elected officials, and supporters, all nonessential meetings have been cancelled or postponed until further notice. For meetings that are essential to our business operations, precautions have been put in place.
Teleconferencing is used as much as possible.
All visitors must sign our "Declaration Risk-Free Visitor" form, confirming that they are not experiencing any COVID-19 symptoms, do not meet current travel restrictions, and are not subject to any quarantine or isolation orders.
Meeting attendance is restricted to 5 people maximum.
Social distancing practices must be maintained throughout all meetings, including while attendees are seated.
Supporting Our Community
In addition to our efforts to support our customers and employees, BRIDG is committed to helping our community. To strengthen the U.S. response to COVID-19, we are offering cleanroom space and seeking partnerships to help alleviate shortages in life-saving medical supplies.
Recognizing the continued need to develop high-tech talent in Central Florida, we are also engaging our partners in education to update our workforce development activities in the era of COVID-19. As we move forward, creating a pipeline of knowledgeable student-leaders ready for tomorrow's STEM careers will help ensure global competitiveness.
Looking Ahead
The current crisis has highlighted the dire need for domestic semiconductor R&D and manufacturing for our national, state, and local wellbeing. The medical achievements that are saving lives now, will bring the pandemic to an end in the future, and will afford the opportunity to rebuild our communities are all highly dependent on semiconductor technologies.
The core set of technologies in development at BRIDG are essential for delivering the continuous advances in every industry that relies on these technologies: from aerospace and defense, to life sciences and healthcare, to energy and transportation. Each of these applications promise to pave the way to a better tomorrow with significant improvements to the human condition and experience.
We remain committed to our vision of repatriating semiconductor technologies for national security and diversifying Florida's economy through the creation of high skill and high wage jobs in the fields of microelectronics and advanced manufacturing. Together, we will create a brighter future.