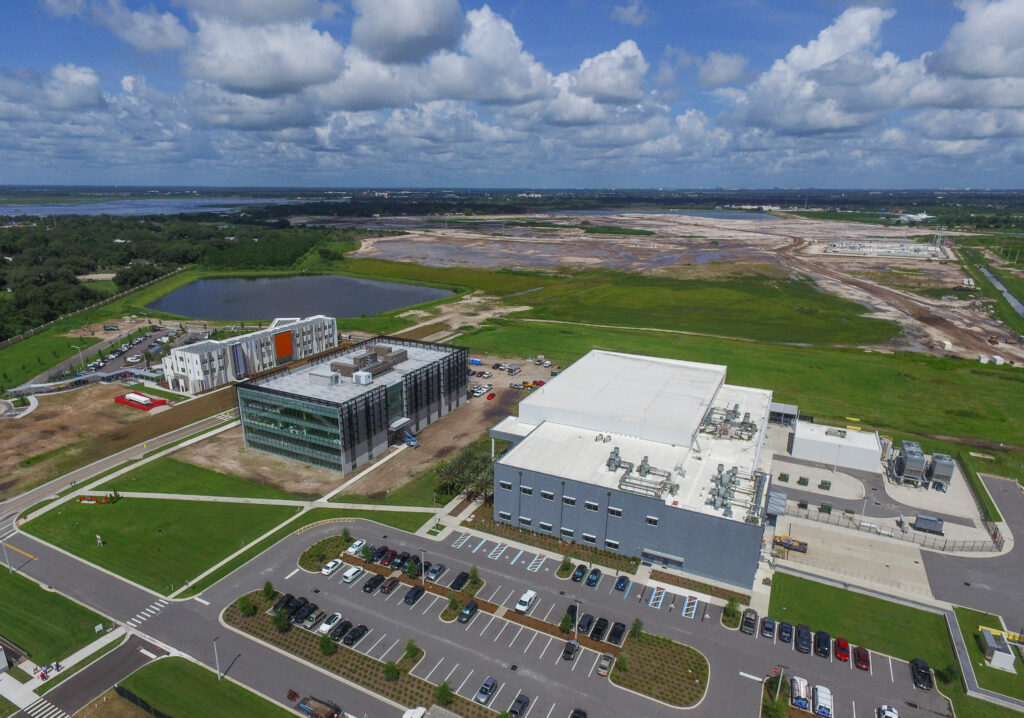 While the public image of Florida has historically been dominated by tourism and agriculture, the state's economy is also powered by aerospace, defense, aviation, electronics and life sciences. In fact, research and development in Florida has grown 80 percent over the past 15 years and the State of Florida now ranks 13th in State R&D spending, rising from 17th in 2004. Central Florida, in particular, is home to major defense prime contractors and commercial space companies, including Lockheed Martin, Northrop Grumman, Raytheon, L3Harris, Pratt & Whitney, SpaceX, Boeing, Embraer, Rockwell Collins and many others.
Recognizing the strengths inherent in Central Florida and aiming to further diversify the region's economy, Osceola County and the University of Central Florida charted a bold vision for the region's future—one that expands economic opportunity with high value jobs and cements Florida's leadership role in the industries of the future. Osceola County established NeoCity—a 500-acre greenfield high technology site—to support advanced manufacturing in technology sectors of strategic significance.
About BRIDG
As you might be aware, BRIDG serves as the anchor tenant of NeoCity. As a public-private partnership operating a world class secure microelectronics manufacturing facility, BRIDG is a force for economic transformation, helping to cultivate the high value job growth that will further diversify the regional economy. With two cleanrooms, sophisticated manufacturing equipment and a dedicated team of experts, BRIDG enables critical advancements across numerous critical industries: medical, agricultural, space, cybersecurity, artificial intelligence, autonomous vehicles and the Internet of Things.
Most immediately, BRIDG provides critical support to the defense industry. Every major U.S. defense contractor has significant operations in Central Florida, and they all rely on secure microelectronics for navigation, communications, and radar. All of these systems will require more function and more power in smaller packages.
Innovation is Taking Off At NeoCity
The region's bold vision is now bearing fruit. Today, more than 100 jobs are based at NeoCity as a direct result of the catalytic effect BRIDG is creating. This initiative is helping to ensure the economic vitality of the state and nation by further transforming Central Florida into an innovation hot spot.
Imec, a world-renowned R&D and innovation hub in nanoelectronics and digital technologies, chose NeoCity for its North American headquarters and BRIDG for a new strategic partnership. It has located more than 25 full-time employees in NeoCity and expects to grow its operations to 200 employees within the next few years.
Tokyo Electron, a global leader for semiconductor production equipment and technology development, announced a partnership with BRIDG and placed an advance team onsite to prepare for the collaboration.
SÜSS MicroTec, another key supplier of equipment and process solutions for the semiconductor industry, is establishing a production-level applications center at the BRIDG facility—bringing an unprecedented array of SUSS MicroTec equipment and fabrication technologies to the doorstep of its North American customer base.
NeoCity Academy, a choice public high school focused on STEM education, is addressing the growing need for skilled high-tech talent with an innovative project-based curriculum designed to prepare students to take on roles at BRIDG and other high-tech companies.
Kissimmee Utility Authority, the sixth largest municipally-owned electric utility in Florida, made a significant investment in the infrastructure and future energy needs of NeoCity through the establishment of the Domingo Toro substation—the largest electrical substation in the KUA service area.
Transforming the Economy of Osceola County
Critical economic indicators are beginning to show tangible benefits to the local economy, and the activities at NeoCity are fueling real wage increases in Osceola County.
In computer and electronics manufacturing, the momentum in Osceola County is even more dramatic; employee compensation in this critical sector has grown more than 20% in Osceola County, compared with 4% statewide. These are precisely the types of jobs that NeoCity is working to attract, create and grow.
Federal Government Partnerships
The unique microelectronics manufacturing capabilities available at BRIDG have attracted the attention of numerous Federal agencies. BRIDG is developing capabilities that will support next-generation radar systems and 5G networks, in addition to other high-value applications. This capability does not currently exist in the United States and without it, we will be at a severe disadvantage militarily and economically.
To address this gap, BRIDG has initiated several programs and has recently closed on Federal contracts worth more than $25 million over the next three to five years. This investment creates a strong foundation for additional business with defense as well as commercial industry customers. To date, BRIDG has finalized contracts with the Air Force Research Laboratory and the Department of Defense's Industrial Base Analysis and Sustainment program. These projects are addressing critical priorities for the Department of Defense today that will have broad application for several commercial industries in coming years:
Demonstrating a secure process for semiconductor manufacturing (similar to blockchain)
Creating the capability to build smaller yet more powerful components needed for both radar systems and for deploying 5G
The current federal budget also includes funding to accelerate these programs and BRIDG partners are working to make that funding available.
Global Leadership in Microelectronics
Florida has been faced with the challenge of diversifying its economy for years. Various organizations and respected economists believe Florida must continue to focus on creating high-skill, high-wage jobs to diversify our economy and foster innovation.
With the 4th Industrial Revolution poised to become the largest economic driver of all time, BRIDG, NeoCity, and other high-tech initiatives throughout the state have positioned Florida to be the center for this global evolution, enabling the United States to maintain global leadership in microelectronics. As we work to protect Florida's economic vitality, continued support of transformational advanced manufacturing projects like BRIDG will remain critical.