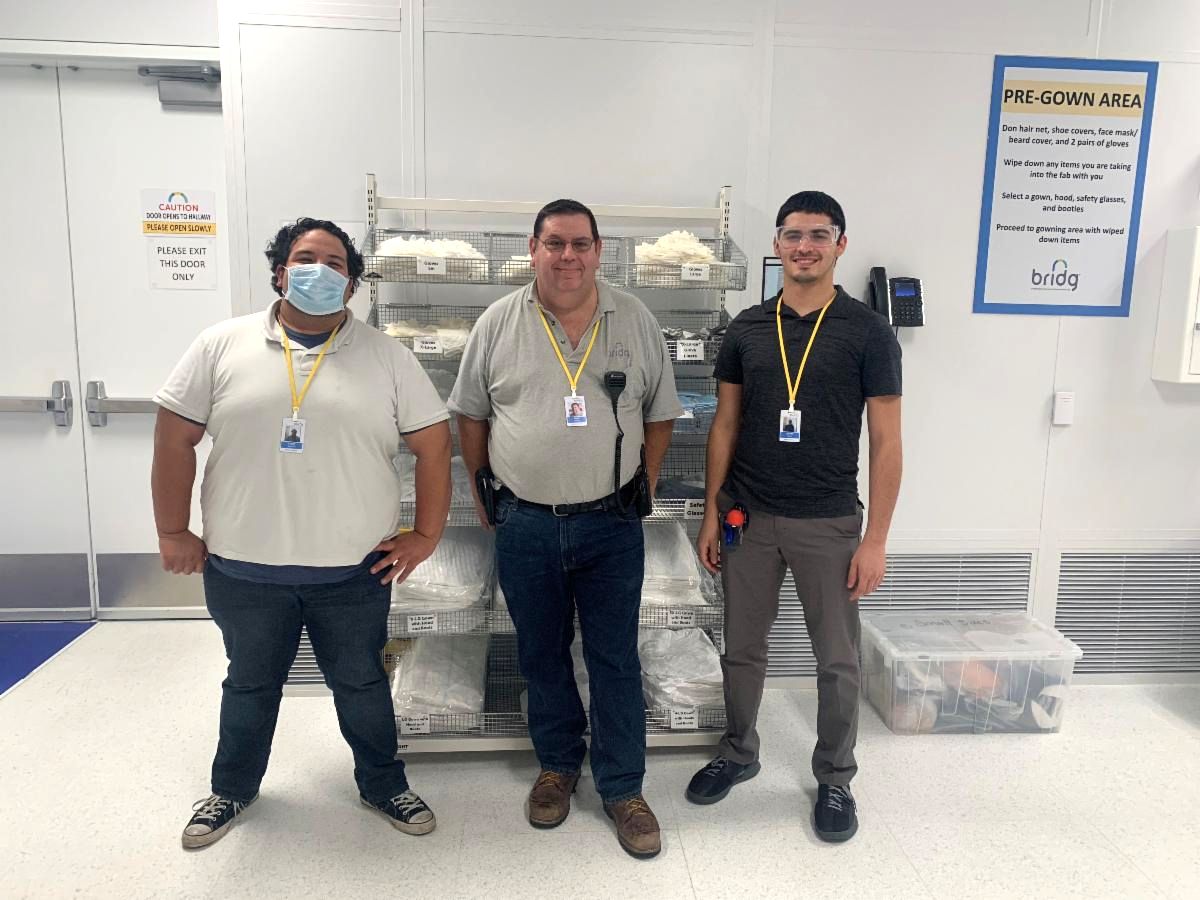 (L to R): Isaac Machado, Mark Smalley, and Julian Torres-Graw prepare to "bunny-up" in the pre-gown area of the BRIDG fab. After donning hair nets, shoe covers, face masks, and other protective apparel intended to safeguard sensitive equipment and manufacturing processes, the team will cross into the gowning area to put on a full body "bunny suit" before entering the cleanroom. 
In continued support of the Central Florida STEM talent pipeline,
BRIDG
has welcomed two new fab interns to the team:
Valencia College Mechatronics Program
students Julian Torres-Graw and Isaac Machado. Throughout the 12 week internship program led by BRIDG Senior Technical Assistant Mark Smalley, the two students can apply the skills they developed in class to real world situations.
"Attention to detail is a big part of our job here at BRIDG," said Torres-Graw, commenting on how the mechatronics program prepared him for the internship. "We must pay attention to every small component so that nothing escalates into a big problem."
Torres-Graw and Machado spend their work days inside the BRIDG cleanroom, where they learn firsthand how to operate and maintain each
fabrication tool
.
"My favorite part about this internship is the involvement we have in the projects that the team is working on," said Machado. "I am learning as I work alongside the engineers here."
BRIDG is committed to helping develop a skilled microelectronics workforce that will ensure the global competitiveness of the region, state, and nation. Through partnerships with local academic institutions such as
NeoCity Academy
– Osceola County's STEM magnet high school – and leading Florida universities, BRIDG team members inspire and guide students to pursue STEM-based career paths.