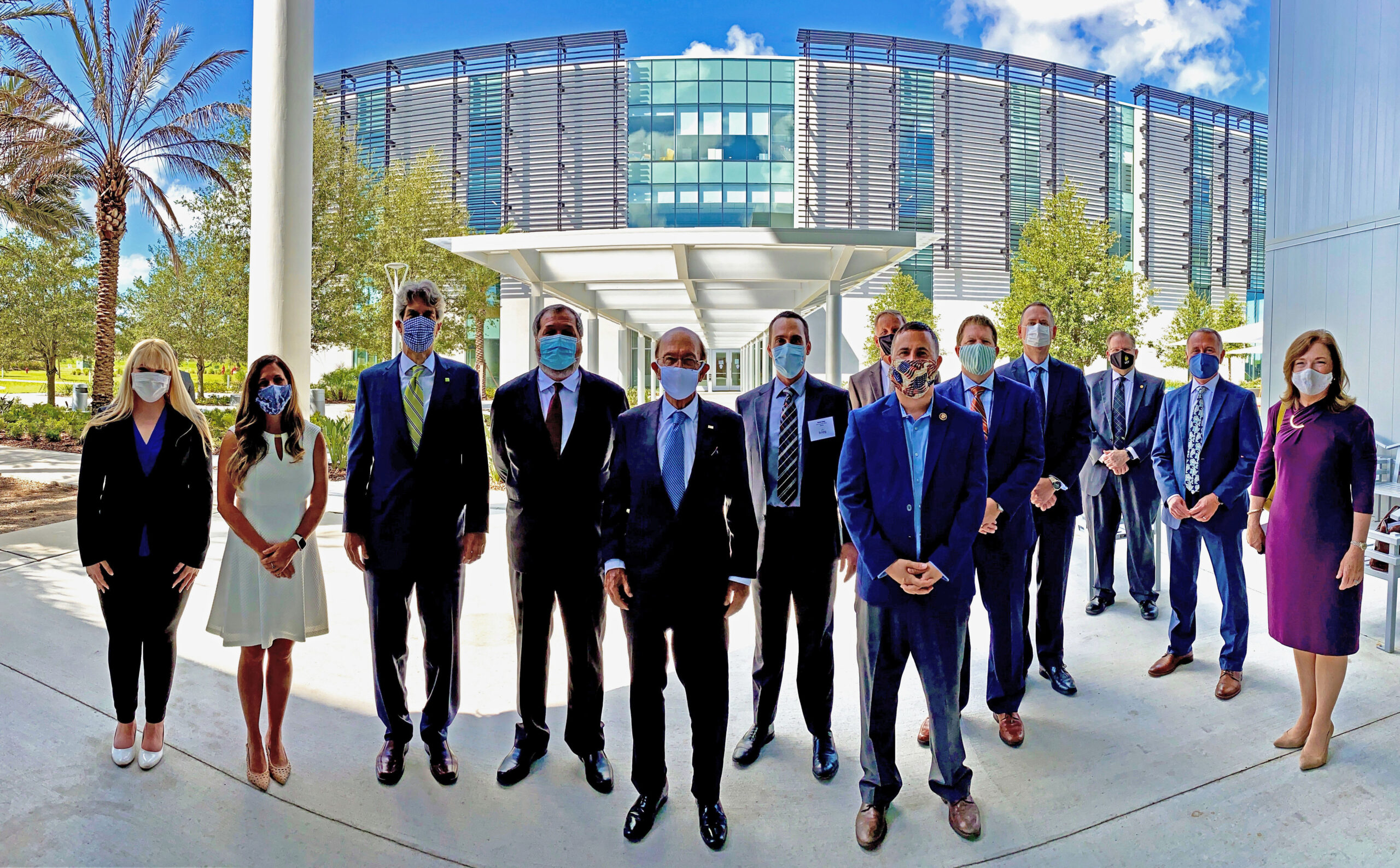 Kissimmee, Fla. (June 12, 2020) – Today, U.S. Secretary of Commerce Wilbur Ross visited BRIDG, a not-for-profit, public-private partnership for semiconductor R&D and manufacturing. The visit highlighted the importance of U.S. leadership in the semiconductor industry and the need for public-private partnerships such as BRIDG to protect, strengthen, and unify the domestic semiconductor supply chain.
"Central Florida is critical to America's microelectronics manufacturing supply chain and its defense and aerospace customers," said U.S. Department of Commerce Secretary Wilbur Ross. "BRIDG's vision and leadership will not only help solidify the United States' position as a global competitor in the semiconductor industry, but they will continue to revitalize and strengthen the local economy as we reopen the country."
"BRIDG is honored to welcome Secretary Ross to NeoCity as we continue our efforts to establish the United States as a leader in advanced microelectronics packaging," said BRIDG Interim CEO Brian Sapp.  "As highlighted by the COVID-19 pandemic, the repatriation of microelectronics fabrication and jobs back to the United States is essential for our national security, economy, and global competitiveness."
CEOs and other senior leaders from BRIDG partner organizations, including Osceola County, UCF, the Florida High Tech Corridor Council, the State of Florida, imec USA, Lockheed Martin, L3Harris, Siemens, SUSS MicroTec, and Tokyo Electron participated in the event in support of BRIDG and its unique mission and vision. The visit signifies the momentum BRIDG has captured in establishing an advanced packaging ecosystem in coordination with the private sector.
BRIDG operates a 200mm microelectronics fabrication facility delivering solutions to industry and government partners through collaborative technology development and secure manufacturing programs. BRIDG provides state-of-the-art capabilities that are essential to the must-win applications of the future including 5G, Internet of Things (IoT), and artificial intelligence (AI).
Located at NeoCity – an emerging five hundred-acre technology greenfield in Osceola County – BRIDG is positioned to establish Central Florida as a major global hub for advanced manufacturing, serving as a catalyst for continued growth throughout the state and nation. With educational partnerships in place to inspire and strengthen the STEM pipeline, BRIDG is committed to helping develop a skilled microelectronics workforce ready to fill the high-tech jobs of tomorrow.
About BRIDG
BRIDG is not-for-profit public-private partnership providing semiconductor R&D and production capabilities to industry and government, enabled by a versatile 200mm microelectronics fabrication facility. As the anchor tenant of an emerging 500-acre technology district known as NeoCity, BRIDG operates the fab with a focus on heterogeneous integration and advanced packaging process technologies, and the development of a secure manufacturing methodology leveraging digital twin and other Industry 4.0 concepts. Supported by Osceola County, University of Central Florida, Florida High Tech Corridor Council and others, BRIDG connects challenges and opportunities with solutions; "Bridging the Innovation Development Gap" making commercialization possible.
Learn more at www.GoBRIDG.com.
About NeoCity
As a new 500-acre technology-based master planned development set in an innovative environment, NeoCity connects people with the community and its surrounding natural landscape, all within a walkable urban setting. Located entirely within an opportunity zone, NeoCity provides a future-focused ecosystem intended to help drive innovation and discovery within the smart sensor, photonics, nanotechnology and microelectronics-related industries.
NeoCity is strategically positioned in Central Florida – in the heart of Osceola County – to capitalize on the collaboration between high-tech industries and universities while leveraging the strength of the Orlando region as Florida's focal point for technology development. Home to BRIDG, the cutting-edge NeoCity Academy STEM high school, and The OC (a 100,000 square feet Class A office building), NeoCity provides a future-focused, non-traditional and collaborative global location open to companies, researchers and developers from around the world.
Media Contact:
Jenna Bainter, Marketing and Community Relations, BRIDG
407-979-3090